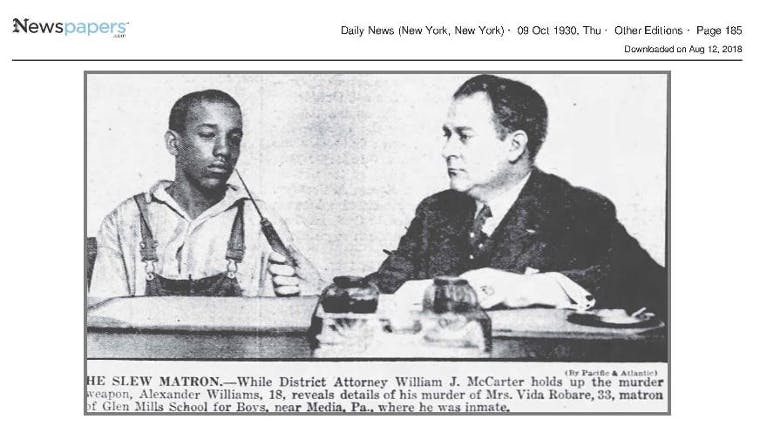 PRESS RELEASE – FOR IMMEDIATE RELEASE
Robert C. Keller, Esquire
101 E. Darby Road
Havertown, PA 19083
Keller, Lisgar and William
Tel. 610-449-1400
E-mail: rkeller@klwllp.com
Re: Commonwealth v. Williams
No. MD 1438-16
No. 91 December Session 1930
POST SENTENCE MOTION
Media, PA –

Just 16 years old – not 18 as he was publicly presented to be – in 1930, Alexander McClay Williams, a Black student at Glen Mills School, was falsely accused of murder. He was wrongly convicted and sentenced to death at the Delaware County Court House in Media on February 27, 1931. Alexander McClay Williams remains the youngest person executed in Pennsylvania history.
On June 13, 2022, his sole surviving sibling, Mrs. Susie Williams Carter now age 92, returns to a Delaware County court room seeking to have the conviction that devastated her family overturned.
This remarkable effort in the interest of justice was only made possible through an unprecedented collaboration between Delaware County District Attorney Jack Stollsteimer, Alexander McClay Williams' attorney Robert C. Keller, Esq., the support of the Delaware County Bar Association, and local historian Dr. Samuel M. Lemon, the great-grandson of the original trial attorney William H. Ridley, Esq., who was the first Black lawyer admitted to the Delaware County Bar in 1891.
Decades after defense attorney William H. Ridley's death in 1945, his great-grandson, Dr. Samuel M. Lemon, a university professor, began an investigation into the case that would span 30 years.
When Vida Robare, an attractive young white house matron at the school, was found brutally murdered on the campus in her bedroom in Cottage #5, by her estranged husband Fred Robare, the story was picked up by the Associated Press, sending headlines coast to coast across America.
Vida Robare died October 3, 1930. Before defense attorney William H. Ridley was finally appointed to represent him by the Court on October 24th, seventeen days elapsed after 16-year Alexander McClay Williams was compelled to make not just one, but three signed confessions.
During that time, he was interrogated at least five times without a parent or an attorney present, and after first vehemently denying any involvement, the exhausted and confused Black teenager finally "confessed" to the heinous crime with no eyewitnesses or direct evidence implicating him.
Potentially exculpatory evidence at the time was either unknown or unexamined. Adding to the mystery of this historic murder, the bloody handprint of a full-grown man found near the bedroom door of the crime scene, was photographed by the Pennsylvania State Police, examined by two local fingerprint experts, yet never publicly identified nor mentioned again in the press or at trial.
County Chief of Detectives Oliver N. Smith publicly stated: "This crime was committed by a full grown and strong man. The woman was unmistakably athletic and could have fought off a boy."
It was either unknown by investigators, or not revealed by the Robares at the time, that the victim, Vida Robare, had been granted a divorce from her estranged husband who also worked at Glen Mills School, nearly nine years before her murder, in their hometown of Manistique, Michigan, in 1921. The divorce decree was granted to Mrs. Robare on the grounds of "extreme cruelty."
Working alone, and being given $10 by the Court for expenses, attorney William Ridley had just 74 days to establish a defense in a capital murder case, without investigators, experts, or resources that the opposing 15-member team assembled by the prosecution had. At the trial, which lasted less than two days, Ridley faced an all-white jury and judge, who were appalled by the most brutal murder in County history, of the popular white victim who was stabbed 47 times with an ice pick.
At trial, defense attorney William Ridley pleaded for the defendant's life and argued the coerced confessions were illegally obtained, but to no avail. Five months after he was sentenced to death at the Delaware County Court House on February 27, 1931, 16-year old Alexander McClay Williams died in the electric chair at Bellefonte State Prison in Centre County, PA, June 8, 1931.

In May 2017, attorney Robert Keller filed and obtained a Stipulated Agreement with the Delaware County District Attorney's Office for a partial expungement of Alexander McClay Williams' conviction, which was accepted and ordered by the Court. This gave the Williams family hope that justice could be further pursued, and, importantly, it got the case back into the County Court system which assigned it a new case number, replacing the archaic 1930 number no longer in use.

After years of advocacy, and with the support of Mrs. Susie Williams Carter, the sister of Alexander McClay Williams, attorney Robert Keller and Dr. Samuel Lemon presented their findings to Delaware County District Attorney Jack Stollsteimer who was immediately receptive to pursuing justice in this case, which stands out in Delaware County and Pennsylvania history.
After Mr. Stollsteimer and Mr. Keller consulted with Delaware County President Judge, the Honorable Kevin F. Kelly, a hearing was promptly scheduled for June 13, 2022, at 3:15 p.m., in the Court of Commons Pleas, at the Delaware County Court House, to hear this noteworthy case.
The public, the press, attorneys, law students, elected officials, church leaders, as well as social justice and innocence advocates are cordially encouraged to attend this historic case for the cause of justice. For additional information, please contact Robert C. Keller, Esq., at the address above.