ABOUT THE AWARD
Named in honor of two of our founders, these two scholarship opportunities for high school juniors and seniors encourage self-reflection and challenge students to consider the importance of speaking out and taking action against injustice in order to build a stronger community. These are the core principles that Media Fellowship House was built upon in 1944 and the values we strive to instill in our youth today.
Three high school juniors will be selected annually to receive a $250 scholarship to support with application fees related to their post-secondary planning.
Three high school seniors will be selected annually to receive a $1,000 scholarship to support their post-secondary plans.*
*When possible, $1,000 scholarship funds will be paid directly to the institution and qualified expenses include tuition, room/board, books/supplies, fees.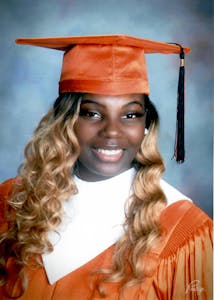 2022 Dorothy James Scholarship Recipient Ke'Asia Webb, a graduate of STEM Academy, is now studying Psychology at Cheyney University.
TO QUALIFY FOR THIS AWARD
To qualify for consideration of the award, a successful applicant will:
Submit a short essay or project, responding to one of a choice of prompts.
Demonstrate evidence of community service.
Demonstrate a commitment to working towards a community free of injustice.
Applicants must also fit the following criteria:
A current Delaware County high school junior or senior
For Juniors: Plans to apply to a post-secondary program in the year following their junior year.
For Seniors: Plans to enroll in a post-secondary program in the year following their senior year.
Post-secondary programs include 2- or 4-year college/university, trade school, certificate program, military, or similar.
Though evidence of financial need is not required, Media Fellowship House is committed to promoting opportunities for low- to moderate-income households.
APPLICATION PROCESS
Sign up today! Tell us about your involvement in community service and activities, and share a brief description of future post-secondary goals.
Submit a Short Essay/Project: When you sign up, you will receive a list of choice prompts* by email when the contest opens on January 10th, 2023. Students will have until February 15th to submit their essay (no more than 2 pages) or project.
*Prompts will focus on topics including: taking action against injustice, celebrating diversity, and/or finding common ground to build a stronger community. We aim to accommodate various learning styles and forms of expression by offering a choice of prompts.
The registration deadline was February 15, 2023. Please check back in Fall 2023, to register for our 2023/24 Scholarship Opportunities!
"I really enjoyed learning about the history of Media Fellowship House and important figures that influenced its founding. It was inspiring to recognize the legacy of their work with civil rights, then proceed to write an essay connecting my own community experiences and seeing where I can make a difference."

– Lindsay McBride, Class of 2023 (Academy of Notre Dame)
DECISION PROCESS
The Award Team is composed of retired educators, local business leaders, and Media Fellowship House community volunteers.
All applications submitted are considered for the award.
A grading system will allocate points for content, creativity, focus/organization, and style/mechanics.
The top three, scoring highest, will be selected to receive a scholarship.
APPLICATION TIMELINE
October 1, 2022 – February 15, 2023 – Applications of interest will be accepted on a rolling basis. All registered applicants will receive a list of essay/project prompts and instructions on how to submit their response when the contest opens on January 10th.
February 15, 2023 – Contest responses must be submitted by this deadline.
March 2023 – The Award Team will review all contest submissions.
April 15, 2023 – Announcement of three scholarship recipients.
Thursday, May 11, 2023 – Scholarship recipients are invited to attend the Annual Award Ceremony at Media Fellowship House's Annual Meeting.
OUR COMMITMENT TO STUDENTS' ONGOING SUCCESS
Media Fellowship House is committed to staying in touch with our award recipients. Our hope is that our award recipients will:
Provide a statement about their ongoing progress in their chosen path in the year following their junior or senior year.
Connect with a network of community mentors available through Media Fellowship House who may be able to assist with college essay writing and career exploration.
2022 Scholarship Winners
Dorothy James Scholarship for Seniors
Ke'Asia Webb, STEM Academy
Similoluwa Olaniyi, Penncrest High School
JaNylah Bishop, STEM Academy
Marie Whitaker Scholarship for Juniors
Kathryn Hutchinson, Garnet Valley High School
Nhaomi Lartey, Penn Wood High School
Lindsay McBride, Academy of Notre Dame