Have you noticed a strong and growing sense of frustration leading to negative feelings and acts of violence and/or hostility among people on all sides of the political divide?
This hostility arises – in large part – from a belief that holding conversations, discussions, debates and dialogue with people who have opposing viewpoints will be too difficult and will devolve into chaos, frustration and either emotional or physical violence. In turn, that limits our ability to adequately express ourselves and our frustrations. The results of this can be emotional overwhelm, scapegoating, deep divisions, fear and anger.


Sessions will be held
Tuesdays, 7–8:30 pm

at Media Fellowship House
302 S Jackson St.
Media, PA 19063

There is no fee to register or attend.
To begin to address this, Media Fellowship House will host four compelling sessions designed as a safe space to help participants learn skills to engage in constructive dialogue with people/groups that have "opposing" viewpoints.
Session 1: Tuesday, February 28th

Let's talk about it.
Exploring and sharing our experiences of hostility, violence, and counter violence in our public discourse.
Session 2: Tuesday, March 28th

I want to understand you. Can I help you understand me?
Learning how to, and helping others to, shift perspectives and to understand other perspectives.
Session 3: Tuesday, April 18th

This feels difficult. Can I practice?
Practicing constructive conversation and developing the skills of when, where, and how to hold a more peaceful discourse.
Session 4: Tuesday, May 2

How can I teach others?
A facilitation training for participants interested in helping others learn the skills, tactics and mental frameworks that are needed to hold productive conversations with people that hold opposing positions and views.
Space is limited to 20 attendees. Each session draws upon the content learned in previous sessions. Attendees are requested to attend at least the first three sessions. May 2nd is an optional training session.
Registration is now full for the 2023 Spring Season.
To join our waiting list, please contact:


Amy Komarnicki, Executive Director
info@mediafellowshiphouse.org
610-565-0434
Meet our Program Facilitator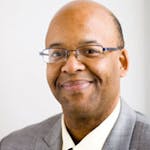 Brian Armstead, MSW, MCP has spent the bulk of his career working with communities, children, and families as an educator, social worker, mediator and community advocate. A skilled facilitator and convener, he brings together diverse–often hostile–groups for meaningful and productive dialogue. Throughout his career he has also mediated individual, family-to-family and neighborhood conflicts. He has also led city-wide and neighborhood-based advocacy campaigns that led to various educational reforms.
In his personal work, Brian has particularly focused on addressing issues affecting people of African descent, especially Black men. He is the co-founder and former Co-Director of the David P. Richardson, Jr. Rites of Passage (for Black teenage males). He is also co-founder of the Black Men at Penn School of Social Work, a Board member of the Father's Day Rally Committee, and a former member of the Urban League of Philadelphia's Community and Economic Development Committee.
Mr. Armstead holds dual degrees–Master of Social Work (MSW) and Master of City Planning (MCP)–from the University of Pennsylvania. He also holds a Bachelors of Science (B.S.) in Marketing from the Pennsylvania State University. Brian is also certified as a Child Welfare Social Worker (Commonwealth of Pennsylvania), Mediator (Good Shepherd Mediation Center), and NLP Behavioral Counselor (NLP Awareness Center).
Currently, he is an adjunct professor of Human Services at Harcum College and a social work consultant performing trainings for families considering foster care. Brian also continues to facilitate community dialogues throughout the tri-state region.